A young friend who only knows the modern young Parisians emailed me about my New Year blog on Paris in the 1950's "Why did you say they can be infuriating?"
Since I have a talent for answering a simple question with a half hour discourse I explained the following….
I'll give you an example. Some years ago I was lunching with a wonderful friend, the late Virginia Martini, in Santa Barbara the day before I left for a month and half in France. Virginia was a very worldly woman. Her first husband was Cary Grant. Her second husband was the Earl of Jersey. Her last husband was a Polish flier in WWII who escaped to England and flew with the RAF. Santa Barbara friends had the opportunity to meet many of Virgina's friends from her past when they came to visit her in Santa Barbara. One of her house-guests who was widely entertained during her visit with Virginia & Florian was the duchess with a most colorful past, Margaret, duchess of Argyll. Virginia was an intimate friend of David Niven and Jai, the Maharaja of Jaipur, the great grandfather of the very young current Maharaja of Jaipur, was in love with her.
A simple question from Virginia "Are you set to go?" brought the explanation that I was except I'd just discovered that morning the clasp on my black leather handbag I always carry when traveling was broken and it was too late to have it repaired.
"After lunch come back to the house and chose a couple of mine," wasn't a suggestion. It was an order from Virginia. She always had very definite theories or answers. I remember she once didn't approve of a young man a certain 17 year old was dating. I was instructed to tell her "Aunt Virginia doesn't approve of ……….. and to get rid of him." I did convey the message and was told " There's no way I'm taking any advice about men from a woman who was crazy enough to divorce Cary Grant!"
But back to the handbag. Virginia had a vast array of the very finest leather bags, several with interior fittings for travel items. She insisted I take two and not as a loan but gift so I wouldn't worry about damaging them. Virginia was at an age where home with Florian Martini and all her dogs and her friends was her life. No more fabulous travels.
The bags were simple but superb quality.The detailing perfection. They weren't covered with today's LV's, CC's, GG's etc. There was just a small gold monogram, a combination of VJ, her Countess of Jersey's initials, topped by the coronet of an English countess, wife of an English earl.
Soooo I'm in Paris and I go to a marvelous stationery store where I have shopped for years. Where I have spent a great deal of money for years! And where I had always been treated exceedingly rudely by the woman who always waits on me. If they hadn't carried such desirable merchandise I'd have walked out the first time and never returned. So there I am once again being treated most haughtily while I pick out an assortment of enchanting and excessively expensive place cards molded like rose petals. Something I would never buy today! And Virginia's purse is casually sitting on the counter.
I just happened to glance up at the very moment my tormentor spotted that tiny gold coronet. "C'est vous Madame?" she asked in the most surprised voice a whole octave higher than she had previously always used on me. I just smiled sweetly and enjoyed from that moment on being treated like a queen. Well at least a British countess! That was infuriating but with a mixture of supreme pleasure. And Virginia enjoyed it more than I when she heard the story upon my return.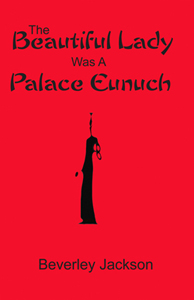 By The Way
This blog was started to sell my new book and I keep going off on other topics. Please do check out
The Beautiful Lady Was A Palace Eunuch
at Amazon.com
Acknowledgement:
Kathleen Fetner, Technical Advisor and Friend