What do you give your ex-husband for his birthday after you've been estranged for nearly 47 years? "Tis a puzzlement" to quote a movie King of Siam. I found the answer in my own wine cellar.
This blog is about pleasant things, interesting places, people past and present, as well as items of interest from the media and everyday life. I've been writing it casually as I did the original By The Way newspaper column I wrote for 22 years. Then recently my wonderful tech helper and friend Kathleen Fetner in San Francisco sent me charts showing my blog is being read in almost every country in the world. I'm still in a shocked state of amazement. Why my blog even got hacked by professionals in Pakistan last week. Just like the Pentagon! I'd questioned her about emails I'd received from followers in Rumania, Japan and Denmark. "How did they find me when they don't know me?" I asked Kathleen. "Well you caught on in Rumania when some avid Barbara Cartland reader Googled her and your blog on her came up and she must have spread the word to the Barbara Cartland readers in Rumania. Then your blog on Florence Chadwick swimming the Catalina Channel was picked up worldwide as people were Googling about Diane Nyad's Cuba-Miami swim attempt. And people liked what they read and started following." Amazing! So now I've had to analyze more carefully what I write. One thing is definite, since I firmly believe decent people keep their private lives private there will never be dirty laundry aired here.
However, I am now going to tell you a bit of personal history because it's an All's Well That Ends Well story that might encourage other divorced couples in coping pleasantly with their situations in their later years.
My marriage ended after eight years. Bob Jackson my ex went on to be happily married to Carol Jackson for 47 years so far. We basically had no friendly contact all those years. I decided after the divorce I was an only child who liked to live life her way. I wasn't really meant to be married. I raised my young daughter alone making her my primary interest in life in her young years. We roamed the world together having a fabulous time. Through my hotelier friendships we stayed in elegant suites in the world's greatest hotels. Through my devoted friends worldwide we stayed in wonderful country houses and palaces as well. There were of course nights spent on wooden benches in cold remote little airports around the world due to plane delays. In the worst predicaments, in places like Rumania during the Cold War or no bathrooms on 10 hour drive from Jaipur to Udaipur, my daughter could always make me laugh.
I long ago heeded Auntie Mame's advice to Agnes, "Live! Life is a banquet and most poor suckers are starving to death!" Yes as my 83rd birthday approaches I can say I've truly feasted at life's table!!
And so now in 2011 the three of us, Carol, Bob and I, are having a fun comfortable time together in our last years. We've gone far beyond the bad things and eliminated trouble makers from our lives. They are there for me and I'm there for them. Their being there for me includes the luxury of fresh eggs from their chickens, just picked vegetables from their garden, fabulous white goat milk butter they keep me supplied with.
I can't contribute such culinary luxuries to our friendship but I can supply unusual entertainment. Prince William and the Duchess of Cambridge came to Santa Barbara for a charity polo benefit. Being quite involved with the Santa Barbara Polo Club I had advance notice and obtained impossible to get tickets for the Jacksons. Unfortunately my nontransferable ticket went to waste as I developed a last minute health problem and missed the big event. But they gave me a full report.
I'd so wanted to see Prince William and his bride as his mother Princess Diana and I were friends in my London days, working together for our close mutual friends the late Duke of Norfolk's Help the Aged and the now Dowager Duchess of Norfolk's Hospices. But that will come up in a future blog when I tell you about the first time I met the young bride Princess Diana. It was the night Prince Charles kindly invited me to dine with them at Kensington Palace as a thank you for my help in raising the funds for his project of building a small opera house in the Royal College of Music.

Now more about that bottle of wine I took to Bob's birthday dinner party, along with a book of Irving Penn photographs, it was quite a good wine from the great vineyards of my very special friend of many years the late Baron Philippe de Rothschild's Chateau Mouton. Vintage 1981 for you former fellow Oenophiles in the San Francisco Commandarie de Bordeaux. How was it? It drank well, good nose, fruits still strong but it is meant to be drunk now and not held much longer. By the way I miss you all. Not sure I ever explained why I disappeared. But when Clem Whitaker died and United Air started charging $750 for the less than 400 mile flight and hotel rates soared I did the math and decided as much as I loved our meetings and dinners and the honor of being one of the only female members of the San Francisco Chapter of Commandarie de Bordeaux, it was time to resign. The math showed me how many Meals on Wheels I could supply and how many AIDS orphans in Rwanda I could feed by resigning.
So the advice I offer in this blog today is, in your 70's or 80's you might try to establish a comfortable "chicken soup when you're sick" relationship with your ex spouses. It can prove very pleasant. It has for me.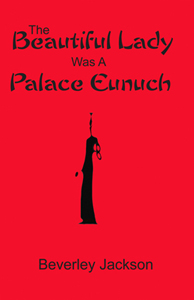 By The Way
This blog was started to sell my new book and I keep going off on other topics. Please do check out
The Beautiful Lady Was A Palace Eunuch
at Amazon.com
Acknowledgement:
Kathleen Fetner, Technical Advisor and Friend