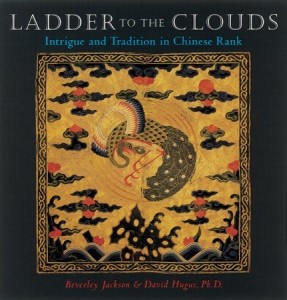 Authors: Beverley Jackson, David Hugus
Hardcover: 326 pages
Publisher: Ten Speed Press (February 1, 2000)

ISBN-10: 1580081274
ISBN-13: 978-1580081276
Description
For 13 centuries, throughout China male recruits studied diligently for a long series of grueling examinations in hopes of achieving the civil rank that would enable them to serve the emperor of China. For the fortunate few who passed these exams there were nine possible ranks, each identified by a square badge of finely woven kesi, embroidery, or brocade. Now available in paperback, LADDER TO THE CLOUDS offers a thorough analysis of symbols, styles, and techniques used in mandarin square ranks, along with the most complete information for their identification to date. An exploration of Chinese symbols and customs, many of which are still practiced today. Includes vintage photographs and detailed descriptions, photos, and illustrations.
Awards
Finalist for the 2000 Kiriyama Pacific Rim Book Award.
Reviews
"This book is a must for anyone interested in Asian art and, in particular, the Chinese rank system and the textiles associated with it. I expect this book to become THE reference book on the subject. I highly recommend it to all those dealing in antique Chinese objects and museums specializing in Asian art. It is obvious to me that both authors have not only throughly researched their topics but also are impassioned by them." posted on Amazon.com by Esta S. Cueni Lupo
"I love this book! The two different parts of this book really works. In Part One, written by Beverley Jackson is an interesting look at Chinese culture and the journey to the mandarin squares. The fictional story of two boys and their different journeys brings the mandarin squares to life. The studying and sacrifices involved in order to wear the mandarin square are staggering. It heightens the appreciation of the squares themselves in Part Two.
In Part Two, David Hugus does an excellent job in dissecting and then explaining the elements making up the squares. Beyond the intellectual and technical issues, Hugus also discusses mandarin squares in the marketplace.
The two authors obviously have a great love and interest in the mandarin squares and the Chinese culture. I recommend this book highly." posted on Amazon.com by thenewyorkie "mhatch"