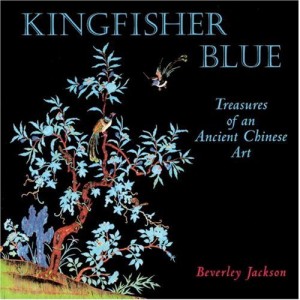 Authors: Beverley Jackson
Hardcover: 224 pages
Publisher: Ten Speed Press (October 1, 2001)
Language: English
ISBN-10: 1580082610
ISBN-13: 978-1580082617
This book is currently out of print. You may be able to find a copy at these locations:
| IndieBound | Barnes & Noble | Amazon | Alibris |
Description
Many cultures around the world have used bird feathers as decorative accessories to denote status, wealth, and even royalty. Nowhere did this unusual art form reach greater popularity than in China, beginning a thousand years ago and continuing to this day. Using the kingfisher-with its uniquely iridescent range of ultramarine to bright turquoise-blue feathers-as their bird of choice, Chinese artisans created extraordinary objects, rendering the many-hued feathers with exquisite technique. The sheer breadth of these objects is staggering, from massive eight-foot-tall screens to tiny two-inch-long hair pins, from ornately ornamental lanterns to elegantly simple bird cages. Beverley Jackson has once again gathered an exceptional group of objects for study from great museums and private collections alike. Her lively, informative text and unique selection of historical photographs make KINGFISHER BLUE a coffee table book that reads like a novel. The first book-length treatment on this subject. With 150 full-color photographs throughout.
Reviews
This handsome, well-presented book is well researched, and the full-color photographs capture the beauty of the objects. — Maine Antique Digest
"The photographs alone are worth the price of this book, but reading it is pure pleasure as well." —PieceWork magazine