What a nice surprise when I went to the Post Office in upper Montecito Village today. Walking past Tecolote Book Shop I saw a window full of my books, the brand new The Beautiful Lady Was a Palace Eunuch and three of my older books Splendid Slippers, Ladder to the Clouds and Shanghai Girl Gets All Dressed Up. What a big smile this put on my face. I was so delighted I actually forgot to go to my box and pick up my mail!
Tecolote is truly an institution in Montecito. It's where everyone buys their books. And where people gather to browse, run into their friends, chat with strangers and make new friends. The bookstore was owned by popular longtime Montecitan Peggy Dent for 17 years but in 2007 Peggy sold to three local men who love their books and like having a local bookstore, Herb Simon, Len Freedman and Marc Winkelman. But nothing really changed as Mary Sheldon who managed Tecolote for 15 years with Peggy not only stayed on but was taken in by the men as a part owner. You might say the men are really sort of silent partners of Mary's because in Montecito Tecolote is Mary. And right there with her is her long time co-worker Penny McCall.
Mary and Tecolote are so much a part of Montecito. If a book signing party is held anywhere else, in a home or as happened last week with Molly Chappellet's new book Longhouse the signing was held at historic Casa del Herrero as a benefit, Mary is right there selling the books with her always present happy smile. I've lost count of how many book signing's I've done in my home for friends, always with Mary doing her selling thing in my Chinese dining room with the author sitting next to her busy signing.
About two months before there was any news of Oprah Winfrey buying the old Bacon estate in Montecito I knew something was brewing. Why? Because there was a line waiting to check out at Tecolote and I was standing in back of the legendary Oprah in the line. And doing what people do in bookstores I looked over her shoulder to see what she was buying. It was a book on interior design by famed British interior designer the late John Fowler. Why would Oprah be buying a book like this in Montecito? Her homes In Chicago and Hawaii we know have long been completed. She must be buying a Montecito home. And she did. By the Way, when an old friend stopped to chat with me while I was waiting in line I noticed Oprah Winfrey, who was turned sideways at that point, glance down and take note of the books I was buying. That's what people do in bookstores you know!
Tomorrow I'm going to go and look at my Tecolote window again. Oh yes, and pick up two day's mail! The last time I was this delighted with a window of my books it was a bit more complicated to see them. The store was Rizzoli Book Store in New York City on 57th Street near Fifth Avenue. They gave me their big front window for many weeks for Shanghai Girl Gets All Dressed Up. Did I go back to see that window? What do you think?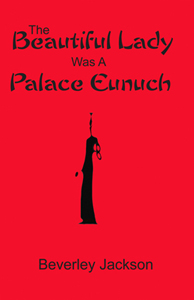 By The Way
This blog was started to sell my new book and I keep going off on other topics. Please do check out
The Beautiful Lady Was A Palace Eunuch
at Amazon.com
Acknowledgement:
Kathleen Fetner, Technical Advisor and Friend