My friend Nancy Duong is full of energy and enthusiasm. One of her projects is an art gallery she started, Gallery 3b.
"How did you happen to get into that?" I asked as we chatted over tea one afternoon last week.
"I've always wanted my own gallery, just like guys wanted cool cars," came the answer. "I really got into it when I saw so many young artists just not making it because they were without connections and had little money. So I got the idea of 3b and set about establishing a network. I just wanted to help the artists and I hope people like what they see of the work I present. A lot of the Asian artists are my friends from Vietnam. They are in most cases quite poor and if someone buys their artworks its a paycheck that could last two or three years in Vietnam."
Nancy claims she is an art historian who knows a good painting when she sees one and feels she can tell which artists have good potential. And I agree with her.
I was particularly interested in the work of an artist she was handling named Duong Quang Ngo. I found his self portrait most intriguing and asked her about him.
"He was born in Hanoi and graduated from Vietnam Fine Arts University. I met him in Hanoi in 2009 and he's really terribly nice. Quiet and humble. Likes to be by himself. But he has a fantastic smile."
As we went through a series of his paintings I was particularly taken by a scene of spring blossoms and a wooden building and courtyard with goats. "I've been in a courtyard just like that," I commented looking at the painting with fascination. "But it wasn't Vietnam. I was in a remote mountain top village called Zhanao in China where we had gone for a festival related to ancestral worship of the Long Skirt Miao Minority People of China."
"Well that is a coincidence because most of his artworks is about the Miao people in northern Vietnam. He likes to go there because it's so quiet and peaceful compared to busy Hanoi where he grew up. He loves the landscape and the fact that it's unspoiled, nothing changes there. and the people are so friendly and innocent. His paint images take him back and remind him of their simple life and good nature."
I couldn't help thinking I hope he stays there where he is inspired to create such lovely work. And I do hope he never tries to conquer New York City art world in person. Nancy can do that for him.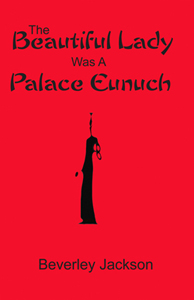 By The Way
This blog was started to sell my new book and I keep going off on other topics. Please do check out
The Beautiful Lady Was A Palace Eunuch
at Amazon.com
Acknowledgement:
Kathleen Fetner, Technical Advisor and Friend