Sorry I've been out of touch but I've had my hands full. We came home a week and half ago and the house has been really crazy. Different nurses three times a day & Rennie barking madly at all of them especially the 11:pm shift. Aunt Susie manages to stay calm & get everything organized. She's the greatest.
We had one really bad night last week. At 4:30 in morning all these big firemen came & took Mommy back to Cottage Hospital. I rode in the ambulance. Rennie had to stay home. She was really jealous I got to go. We came home the next morning.
Mommy has really hurt a lot. She hasn't been any fun. Thank goodness Aunt Susie is here all the time. Then today my pal Babji came to see us. That's Dr. Babji Mesipam. He really scolded Mommy. He told her she could keep lying in bed hurting letting the nurses do everything for her or she could get up & force herself to walk & do things for herself no matter how much she hurts & get strong & well.
Well he really knew how to get to Mom. After he left she dressed herself. She uses something like a fishing pole with a giant tweezers on the end to reach her slacks & put them on. What a production. Rennie & I laughed ourselves silly watching her.
Then Aunt Susie, nurse Julia & I took her out in the sunshine for a walk. Julia pushed her in the wheelchair & I rode on Mommy's shoulder. When we got to the level Mommy used her walker & walked a long way looking at all the flowers. Then we rode home. And we all had dinner in the living room instead of in bed. The sun was shining in on us. Mommy's wheelchair was in a corner where she could look at our pretty Japanese terrace that our friend Mike Flaherty is taking care of for us and all the flowers people have sent in the living room And she was laughing instead of crying from the pain. So it was a really good day finally I'm happy to report.
Well, Pip pip as Uncle Richard Mineards would say. I don't know what it means but it sounds funny.
Fluffy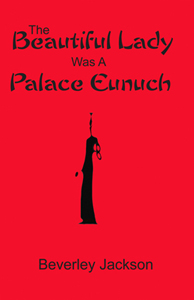 By The Way
This blog was started to sell my new book and I keep going off on other topics. Please do check out
The Beautiful Lady Was A Palace Eunuch
at Amazon.com
Acknowledgement:
Kathleen Fetner, Technical Advisor and Friend