During the late 1970's and 1980's spring and fall I rented a delightful tiny mews house in London from my friend the late Jan Sterling whom many of you will remember from her Hollywood films. This was a very happy and very active time in my life. I moved in a fascinating very wide circle of theatre people, artists, titled aristocrats, the jet set, as well as my fascinating neighbors in the very short street where my mews was located. Our street was Kinnerton Street located in the Belgravia section of London. On Kinnerton Street we had an iron monger, a top ranked Indian restaurant, four pubs, a fish monger, some important theatrical people and even Lord Louis Mountbatten had a house at the end of the street.
And if there weren't enough interesting people in our own street we could go around the corner to the Berkeley Hotel and find a whole new group of interesting visitors to London there. One particular day I lunched with my dear friend the late Fleur Cowles at the Berkeley. After a very long gossipy lunch we were out front waiting for Fleur's driver (I had only to cross the street and turn the corner and I was home) when a pink Rolls Royce drove up. Now I've seen pink Rolls in Hong Kong, every color there, but in London a pink Rolls? It stopped right in front of us. The driver in pink livery got out, opened the back door and buried beneath a pink fox throw over her lap sat a lady entirely dressed in pink hat to shoes.
"Barbara Cartland?" I asked Fleur. I mean, who else could it have been. "Yes," she said smiling. "And you are about to meet her." And indeed I did. I was so fascinated by the pink scene before me I could barely acknowledge Fleur's introduction. That was the day I met the legendary lady in pink, the late very famous Barbara Cartland who published 723 books in her lifetime and supposedly left 160 unpublished manuscripts when she died.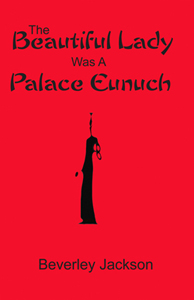 By The Way
This blog was started to sell my new book and I keep going off on other topics. Please do check out
The Beautiful Lady Was A Palace Eunuch
at Amazon.com
Acknowledgement:
Kathleen Fetner, Technical Advisor and Friend