Chapter Twelve
LITERARY STARVATION
Another day I returned with the group to see what was allowed to be viewed of the Imperial Palace. Restoration was going on which was surprising in view of the political thinking of the cultural revolution in which art, books, anything intellectual or part of the glamorous imperial past was being destroyed. Our guide gave us a general idea of the layout, and strict instructions of which gate to exit to find our taxi, then turned us loose.
The Forbidden City was and is an overwhelming place. Where to begin? Listed by UNESCO as the largest collection of preserved ancient wooden structures in the world, it covers 7,800,000 square feet. Construction of the Forbidden City began in 1406 when the Yongle emperor Zhu di became emperor. More than one million workers labored for 15 years to complete the construction. At this point 980 original buildings survive. Peter and I covered only a small section of what we were allowed to see in 1975. And in my many subsequent visits the past 34 years I feel as though I haven't really covered that much more. I still find it overwhelming.
Needless to say, everyone had trouble finding that gate the guide had told us to use as our exit point at the end of our visit. After viewing fascinating buildings with lovely names — the Throne Hall of Supreme Harmony, the Palace of Heavenly Purity, and the Hall of Imperial Peace — Peter from Denmark and I who had toured the Forbidden City together somehow emerged through the right gate and found the taxi. We tried charades to find out if others had already been transported back to the hotel. It didn't work. When he delivered us to the Peking Hotel we thought he understood he was to return for the others. At dinner that evening an annoyed group of our fellow travelers were complaining about having to walk back to the hotel on feet weary from hours of wandering in the vast Imperial Palace complex. They couldn't figure out where the taxi was that was supposed to pick them up. Peter and I listened, saying nothing.
It was strange having nothing to read. I've always been a two or more newspaper a day woman and still mourn the demise of afternoon papers and extras. How many readers remember coming out to the street midday, or leaving a night spot late in the evening and hearing a boy shouting "Extra! Extra! Read all about it!" while waving a paper in one hand and carrying a batch of them under his other arm. A natural disaster, a train derailment, a murder, the outbreak of war were all extra fodder.
But our orders were, take nothing into China to read. No newspapers, magazines, books, and certainly not a Bible!! This was one country where you didn't find a Bible in the bedside table drawer. So we had nothing to read. Although the miniscule wattage of the hotel room lights was more suitable for lighting a child's doll house than illuminating a book.
There were racks of political propaganda pamphlets in at least ten languages in the hotel lobbies. And it was possible to find Chairman Mao's Little Red Book in English everywhere.
I did stumble upon a small book store that had some English reading material one day in Peking. There were ten paperback volumes of Chinese Literature for 1975. The volumes were numbered one to ten and dated. They were quite comprehensive — comprehensive of art and literature during the Cultural Revolution. A featured story "A Sea of Happiness" in volume one concerns the adventures of Miao-miao whose dad and mum were building new boats and making fishing nets for the good friends in Vietnam. In the poetry section "Ah, Chungnanhai, Pride of My Heart" is political poetry about Chungnanhai. "From here (Chungnanhai) Chairman Mao directs our revolutionary course. Here Chairman Mao meets heroes from all our fronts. Storm centre of revolution where the red flag will always fly." Not exactly Byron or Keats.
Color photos of paintings from the National Art Exhibition show included two smiling triumphant workers pulling tin buckets of water out of a hole in the ice, a snowy scene with oil wells in the background. "Where the oil is, there is my home" is what the title winning painter Chang Hung-tsan called this painting. A black and white woodcut, "The Slave System Must Never Return!" shows a very forceful group of young people surrounding a woman pulling a big metal chain between her hands.
Literary starvation proved to be comparable to food starvation. If you are hungry enough you eat roots and grass. So now as I see the wild modern painting and the traditional ink and watercolor scenes being produced in China today, I can appreciate how the world has opened up for Chinese artists since the Great Proletarian Cultural Revolution. No one promised us China during the Cultural Revolution would be fun and indeed amusement was hard to find, even in the arts.
Chapter 1: Part 1  Part 2
Chapter 2: Part 1  Part 2  Part 3
Chapter 3: Part 1  Part 2  Part 3  Part 4
Chapter 4: Part 1
Chapter 5: Part 1  Part 2  Part 3
Chapter 6: Part 1  Part 2  Part 3
Chapter 7: Part 1
Chapter 8: Part 1  Part 2
Chapter 9: Part 1  Part 2
Chapter 10: Part 1
Chapter 11: Part 1  Part 2
Chapter 12: Part 1
Chapter 13: Part 1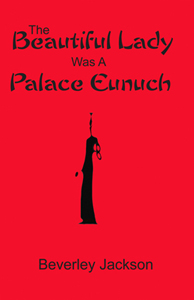 By The Way
This blog was started to sell my new book and I keep going off on other topics. Please do check out
The Beautiful Lady Was A Palace Eunuch
at Amazon.com
Acknowledgement:
Kathleen Fetner, Technical Advisor and Friend