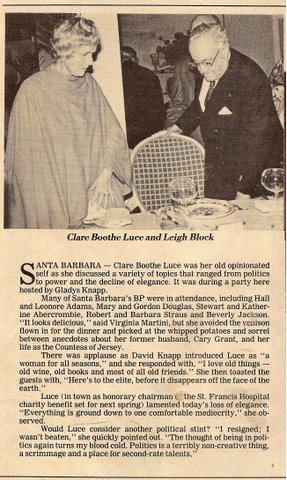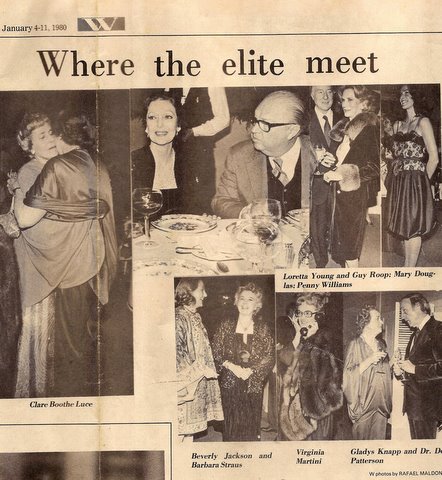 All the most colorful people showed up in Santa Barbara in the 1970's and 1980's. Here is an article in W Magazine January 4-11, 1980. The very well known Clare Boothe Luce came to town and the great philanthropist and fun hostess Gladys Knapp gave a party for her. Since the article may be difficult to read I'll tell you what it says:
Santa Barbara — Clare Boothe Luce was her old opinionated self as she discussed a variety of topics that ranged from politics to power and the decline of elegance. It was during a party here hosted by Gladys Knapp.

Many of Santa Barbara's BP [beautiful people – a popular term then] were in attendance, including Hall and Leonore Adams [Oprah Winfrey has since bought their charming home next door to her big estate to house her trainer!], Mary and Gordon Douglas, Stewart and Katherine Abercrombie, Barbara and Robert Straus and Beverley Jackson.

'It looks delicious,' said Virginia Martini, but she avoided the venison flown in for the dinner and picked at the whipped potatoes and sorrel between anecdotes about her former husband Cary Grant and her life as the Countess of Jersey.

There was applause as David Knapp introduced Luce as 'a woman for all seasons', and she responded with, 'I love old things — old wine, old books and most of all old friends.' She then toasted the guests with 'Here's to the elite, before it disappears off the face of the earth.'

Luce (in town as honorary chairman of the St. Francis Hospital charity benefit set for next spring) lamented today's loss of elegance. 'Everything is ground down to one comfortable mediocrity,' she observed.

Would Luce consider another political stint? 'I resigned. I wasn't beaten,' she quickly pointed out. 'The thought of being in politics again turns my blood cold. Politics is a terribly non-creative thing, a scrimmage and a place for second rate talents.'"
The young readers probably don't know much about Clare Booth Luce. She was a very colorful woman. Many will remember her as the author of the great play and movie "The Women". Others will remember her as the wife of powerful Henry Luce, owner and publisher of Life, Fortune and Time Magazines. Some remember her as a very involved convert to Catholicism in 1946 following the death of her daughter, a Stanford University student in an auto accident. There was a joke that went around — Mrs. Luce was having an audience with the Pope. She kept going on and on about the value of being a Catholic. Finally the Pope interjected, "But Mrs. Luce. I'm already a Catholic!" During WWII she served as a foreign correspondent for her husband's magazines on the frontlines in Netherlands, France, Italy and Belgium. She served as a Congresswoman from Fairfield County, CT. And with her husband was a great promoter of Generalissimo Chiang Kai-Shek and his wife Mei-ling Soong, neither of whom have ended great favorites of mine after my 35 years of research on China, Chinese history and Chinese custom. Clare Booth Luce died in 1987, still very active at age 84.
If you can't read the captions under the pictures that is Mrs. Luce and Leigh Block of Montecito and Chicago. Leigh and wife Mary had a great collection of Impressionist paintings that were left to Chicago Art Institute, a museum of which he was head of the board at one time. Mary's father Albert Lasker had one of greatest collections of Impressionist paintings in the United States. Luce is hugging the hostess in the next photo. That's beautiful Loretta Young with interior designer Guy Roop. His book on Palladian Villas has become a sought after out-of-print treasure. Mary and Gordon Douglas who owned the lovely Montecito estate Il Brolino where they created great topiary gardens which are still maintained by present owners Bui and Herb Simon. Penny Williams whose grandfather Sam Mosher owned Signal Oil. I'm wearing an antique Chinese coat talking to Barbara Straus whose husband Bobby Straus (Macy's family) was one of Santa Barbara's most loved men, a war hero, a great gentleman, the grandson of Ida and Isador Straus who went down with the Titanic with great dignity. Then there is marvelous Virginia Martini and last Gladys Knapp with Dr. Don Patterson. Mary Douglas now lives in Charleston, SC. Last I heard Penny Williams and her family were in Australia I think it was. Sadly only the three of us are still alive. Even lovely old St. Francis Hospital has been torn down to make space for affordable housing for nursing staff at the Cottage Hospital.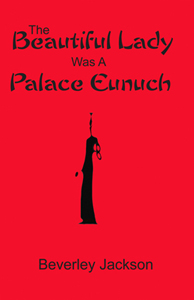 By The Way
This blog was started to sell my new book and I keep going off on other topics. Please do check out
The Beautiful Lady Was A Palace Eunuch
at Amazon.com
Acknowledgement:
Kathleen Fetner, Technical Advisor and Friend