People who love beautiful costumes, appreciate textile creativity and superb workmanship, should head straight to this special exhibition (Theater in Fashion translated from the Italian). Wallis Annenberg has brought the exhibition to Beverly Hills in connection with the Wallis Annenberg Center for the Performing Arts in the historic Italianate style 1933 Beverly Hills Post Office currently being restored. The Center won't be ready for opening until the fall of 2013, but that didn't stop Wallis. She found a wonderful site on North Beverly Drive where the exhibition has been installed. It was scheduled to be in Beverly Hills for only one month, then back to Italy to a museum in Venice but it has just been announced it will be staying in Beverly Hills until December 15th now.
This perfectly spectacular exhibition consists of costumes designed by the greatest Italian haute couture designers for opera, ballet and concert soloists. It has previously been shown in Rome and Milan, and as I mentioned above heads back to Italy and the city of canals and gondolas from California. The curator of this exhibition, Massimiliano Capella, has assembled the most colorful assortment of costumes that explore the relationship between the performing arts and the great Italian designers. Those designers are Armani, Capucci, Coveri, Ferretti, Fendi, Gigli, Marras, Missoni, Ungaro, Valentino and Versace.
There is one exception to Italians in this exhibition, French Coco Chanel. She does show up everywhere doesn't she. Another new book about her, films, documentaries. And now she's found her way into an all Italian exhibition! But she really deserves to be there for the important part she had in Serge Diaghilev's Ballet Russe production of Jean Cocteau's Le Tren Bleu in 1924. This production took place at the Theatre of the Champs-Elysees which has special meaning for me. The theatre was built by the late Madame Ganna Walska whom I had the honor of having a correspondence with for some years and meeting just once. It was a very emotional meeting at her famous Santa Barbara Lotusland gardens and home. But that is a very special story I'll share with you all one day. Fortunately my good friend Hania Tallmadge, Madame's niece, was there with a camera and there is a photograph to document the momentous meeting with tiny Madame in her nineties and me hugging and crying. About the Theatre, after singing not too successfully in an opera she produced in the fine theatre she'd built, Madame gave the theatre to the City of Paris.
Oh dear, there I go straying again! Back to Coco! Her representation in the Italian exhibition is a marvelous bathing suit made of jersey, a fabric previously only worn by the working class in France. Over it was a striking Japanese style white kimono printed in black that I truly coveted. The curator has found a drawing of one of the other bathing suits for Le Tren Bleu which is pictured here. One highlight of this great ballet in 1924 Wallis wasn't able to bring over was the famous curtain Pablo Picasso designed for the Theatre de Champs Elysee. The curtain stretches to over 34 feet by 38 feet. Serge Diaghilev always did think big! After spending most of last 80 years in storage it was taken out and shown at the Victoria and Albert Museum in London in the autumn of 2010.
Now let's look at some pictures of the costumes in the exhibition: I was particularly delighted by Gianni Versace's Bavarian costumes for the 1989 production of Doktor Faustus. Spectacular in black and white basically, but one with a Mondrian like design in color on one side. Here you see front and side view plus one of the original designs by Versace. Another of the Bavarian costumes in all black and white that really caught the eye is also pictured.
One of most striking gowns in the exhibition was a red georgette Capucci design with cascading double ruffles made for Katia Riccarelli to wear for a Paris concert. And since we usually associate the opera Salome with seven veils and things like that Gianni Versace's design for Helga Dernesch to wear playing Herodias in Salome comes as a major surprise! It's very up to date black silk crepe de chine, pleated and draped with a sensational black velvet skirt. A design for this gown is also shown here.
Missoni costumes for a production of Lucia di Lammermoor performed in Milan's Teatro all Scala are also a major surprise. This opera was the second opera I ever saw when I was very young and my memories are of Lily Pons in something chiffony swirling around her, not Scottish plaids and kilt. But Missoni saw kilt in tartans of orange and blue. He dressed Luciano Pavarotti singing the role of Sir Edgardo di Ravenswood in pants of big tartan geometric pattern of blue, burgundy and black with burgundy leather cloak and gray wool tam with pom pom. I'd love to have seen that! Sadly I don't even have a photo to show, only a description. But we can use our imaginations can't we!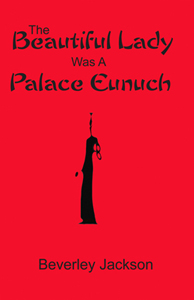 By The Way
This blog was started to sell my new book and I keep going off on other topics. Please do check out
The Beautiful Lady Was A Palace Eunuch
at Amazon.com
Acknowledgement:
Kathleen Fetner, Technical Advisor and Friend