And I got to see it twice in one week! The large spread about this home in the new Harper's Bazaar was exciting beyond words but actually seeing the incredible new home Ruth and Hutton Wilkinson have built adjoining the original Tony Duquette home in Beverly Hills they also own was just the best. First I saw it in daylight. Hearing that Gerald Incandela and I would be in the Los Angeles area to see Verdi's Simon Boccanegra with Placido Domingo (he and other singers were great but hated the ugly stage set that stole attention from the action!) the Wilkinson's invited us to Sunday lunch. This was a special treat for me for the additional reason, although I've been to the Duquette house many times through the years, it was always for parties at night. I'd never seen it in daylight before.
The new home is breathtaking, sitting high above (seven stories high from the bedroom floor Hutton explained and naturally there is an elevator in the new house!) the lake he's built below which backs on the original Duquette house. It's not an ordinary lake with giant koi fish who have somehow hidden from the visiting heron birds and survived. It has a Vietnamese dragon boat sailing on its calm waters and is overlooked by what appears to be a two story Thai house but clever Hutton really cut the original small Thai house in half so they have a two story house to look at. The garden has many of the incredible surprises Tony originally created but Hutton has added new oriental pavilions and so many other treasures in addition to the lake.
The new house! Well you just have to look at the fine Harper's Bazaar pictures and the not so great ones I took with my iPhone camera to get the idea. I can't really put it into words. And as you all know, there is little I can't put into even more words than are needed!
Having had a lovely daytime visit, a few nights later I arrived in darkness to see it by fabulous lights, many of them candles, crystal chandeliers hanging from trees, candles hidden in the miniature Chinese pagoda collection Tony started and Ruth and Hutton have added to. The Wilkinsons were hosting over 100 people for a benefit for Save Venice in which they are very active. Entering through the front door of the new house (Sunday the luncheon was basically in Duquette house) the sight that overwhelmed me most was looking down into the fabulous living room and seeing hostess Ruth looking as magnificent as any woman has ever looked. Stupidly I didn't reach for my camera. She was wearing a ball gown size gown of champagne color double satin with voluminous stole to match and around her neck a collar, no a large bib size necklace of cabochon rubies and diamonds and bracelet to match designed by Hutton. Oh yes, matching earrings as well.
Many of the women really did dress up for the party which was a treat. So often these days they don't when they should! And for those of you in Santa Barbara, Richard Mineards who is known for his assortment of blue and white checked shirts, was exceedingly handsome, debonair, proper in perfect black tie evening attire. However, the guests really did take second place to the setting. Although I had a wonderful guest experience. I was deeply engrossed in chatting with Giuseppe Perrone, Consul General of Italy in Los Angeles, on my right and wasn't aware my dinner partner on the left had slipped away to the buffet tables and someone new was sitting there. Upon turning the gentleman in a most amusing yellow and black dinner jacket announced "I'm Matthew White." I told him my name and we both threw our arms around each other with joy. I'll explain. About two years ago through a blog written by my friend Jennifer Boles in Atlanta, Matthew a leading interior designer in New York and I became email pals. Really good friends on email. But have never laid eyes on each other until that moment. What a fun time we had!
As to the party itself, dinner was buffet from stations in pavilions scattered around the property. I can't really describe them although I have a photo of the cheese pavilion as I'm still temporarily hobbling a bit dependant upon canes, albeit pretty ones (for this party I sprayed one matte gold and covered it with synthetic topaz and diamonds) so everyone was very kindly keeping me well supplied with food while I sat enjoying being spoiled. Although at this party there were delightful young men everywhere dressed in long lame coats and turbans with feathers to extend helping arms Ruth and Hutton had wisely supplied many helping arms because they foresaw the danger the stairs everywhere in both houses and down to the lake could offer in darkness.
There was a full orchestra to play for dancing following dinner. And as I climbed into the car for the ride back to Santa Barbara I felt a bit like Cinderella going home from the beautiful gala. Except I had both slippers (flats!) still on my feet.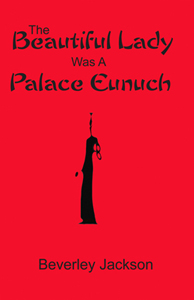 By The Way
This blog was started to sell my new book and I keep going off on other topics. Please do check out
The Beautiful Lady Was A Palace Eunuch
at Amazon.com
Acknowledgement:
Kathleen Fetner, Technical Advisor and Friend