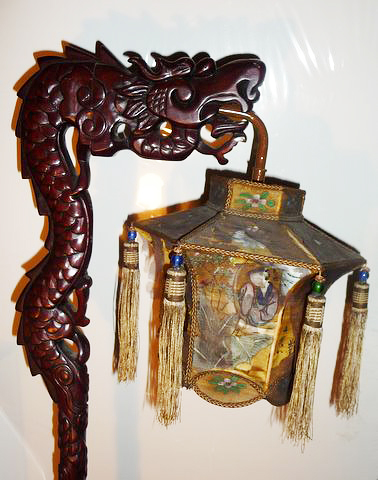 I found this 1920's lamp in a funny little antique store in Edinburgh, Scotland in early 1980's. Without thinking I pulled the old dangerously frayed electric cord out and left it in the Caldonia Hotel waste basket. Once home I took it to the lamp repair shop for a new cord. A week later they called me admitting defeat. "There is no way to get a cord back through there Mrs Jackson."
So I took it to the best electrical shop in Santa Barbara. They kept working with it a month before giving up. "We've tried everything. It is impossible," they announced.
That evening my close friends Anita and the fine painter Yasu Eguchi were over for dinner. I showed them the lamp and told them the disappointing results. Yasu who loves great challenges asked if he could take it home and try. I said it was hopeless. The experts in town gave up on it.
But the lamp went home with the Eguchis. Two days later Yasu was at the front door smiling broadly holding the lamp which sported a nice new electric cord going through it.
"Yasu how did you do it?" I asked in total amazement.
Laughing all the while he explained. "I caught a live beetle and carefully tied a piece of silk thread to it. Then I pushed it through the hole in the wooden base of the lamp. Meanwhile I had Anita holding a flashlight aimed in the dragons mouth. As the beetle moved up through the curving passage in the wood following the light I attached a thicker piece of string to end of silk thread. Once the beetle crawled out through the dragon's mouth I took the silk thread off the beetle then laid it carefully in the grass totally unharmed. Next I attached the electric cord to the end of the string and pulled that through."
Now I have safely wired dragon lamp. And somewhere a heroic beetle is living out it's life in healthy peace.
A favorite dragon holds court in the entrance to my living room holding up a very large Chinese lantern made of blue Cambodian kingfisher feathers. Marie and the late Bob Carty found the very special old lantern for me in a Los Angeles antique store over 30 years ago. How to hang my lantern was a problem. A temporary plant hanging "arm" from the nursery was starting to prove not so temporary when Bob called one day to say he was on the way over with a proper black cast iron dragon lantern holder. It was perfect! "Where did you ever find it?" I asked. "I was waiting in Mike's (Mike Haskell a mutual friend who deals in rare Native American antiques) for him to get off the phone. While I was waiting I was helping him unwrap a shipment of very old Navajo baskets and your Chinese dragon was nestled in one of them.". We were never able to find the real provenance. Ancient Chinese palace to Navajo reservation in New Mexico to me in Santa Barbara, California. Not a usual route for sure!
This dragon embroidered basically with silver foil covered silk thread in a technique called "couching" was one of many dragons on a very rare yellow robe of an empress from my collection. What made this robe so special was: An empress was entitled to wear five of her husband's 12 symbols on her robes for festivals or religious ceremonies. Those symbols were sun, moon, power, good luck and a three corner constellation. This robe had a sixth symbol, a four corner constellation in addition to the three. Only six other robes with four corner constellations are known in the world. My robe is now in the collection of a Chinese collector and has been on display in the Hong Kong Museum.
This is a dragon from a theatrical robe in my collection. We know it's a theatrical garment because it has exaggerated eyes and also if it showed the sides would be closed by ties instead of buttons, easier for quick changes.
The bronze bowl holding apples on my dining room table weighs a ton! The handles are frightening dragons with very sharp scales. The table cloth it sits on has two dragons whose heads are more or less hidden by the bowl.
The four dragons seen here are playing around on a lovely pair of 1920's Chinese cut velvet chair covers. These chair covers found popularity in early 20th century movie star mansions in Hollywood where every Steinway piano was draped with a heavily fringed "Spanish" shawl which were all made in China. Think Norma Desmond/Gloria Swanson's home in "Sunset Boulevard"!
Since they hang in a narrow hallway it is difficult to photograph full length. But here you can see the very grand Phoenix bird they frolic with. And adding to delight with these dragons they are coral color, a great favorite of mine.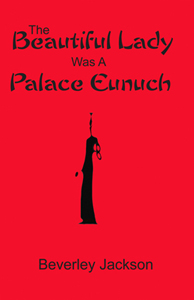 By The Way
This blog was started to sell my new book and I keep going off on other topics. Please do check out
The Beautiful Lady Was A Palace Eunuch
at Amazon.com
Acknowledgement:
Kathleen Fetner, Technical Advisor and Friend