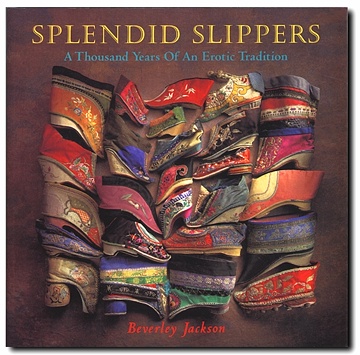 Author: Beverley Jackson
Paperback: 184 pages
Publisher: Ten Speed Press (January 1, 1998)
Language: English
ISBN-10: 0898159571
ISBN-13: 978-0898159578
Description
How and why did the torturous tradition of footbinding evolve and continue well into the 20th century? Did the men make them do it? Was it an erotic turn-on? Or was it a way to keep women and girls under male control? There are as many fanciful myths, legends, and fairy tales about the origins of footbinding as there are cultural, historical, and sociopolitical explanations for it.
Splendid Slippers is an aesthetic, highly personal, and deeply respectful exploration of the facts and the fiction surrounding this fascinating and little-studied erotic custom.
Initially drawn to the extraordinary beauty of the shoes themselves, the author then became captivated by the women who created them and wore them–by their marvelous creativity, and by their terrible suffering.
Awards
Bookbuilders West 1998 Judge's Choice Award
Reviews
"It is said that in order to be beautiful, one must suffer. With Splendid Slippers, Beverley Jackson shows just how beauty and pain can be entwined. How lucky we are that she has shared her knowledge and her exquisite collection with us." Lisa See — best selling author of "Snow Flower and the Secret Fan" and "Peony in Love"
"Jackson's book is a wonderfully personal and aesthetic account of the Chinese tradition of footbinding, by an author who writes with verve, sympathy for her subject, and the journalist's ability to capture a reader's interest. …This is no psychological analysis or gender issue tract, but rather a presentation of the subject by a skilled writer sharing her experiences, discoveries, and reflections in an area little explored by anyone and initially inspired by her love of Chinese textiles. The many glorious color and vintage photographs make it impossible to put the book aside, once sampled. …Highly recommended for all libraries…." CHOICE: Current Reviews for Academic Libraries, Sept. 1998 Vol. 36, No. 1, L. G. Kavaljian, California State University, Sacramento
"I will read anything Beverley Jackson writes…. What a beautiful book. You are to be congratulated on a superior job. The color photography, the print selection, the text … all A-1." Ray Bradbury
"Whilst visiting the Louvre Bookshop in the Louvre Museum in Paris last week I came across your wonderful book Splendid Slippers – A Thousand Years of an Erotic Tradition. Congratulations on a wonderful book." Julian Robinson, Surfer's Paradise, Australia
"…Splendid Slippers: A Thousand Years of an Erotic Tradition proves that picture books can be more than pretty table decoration … does not serve to judge nor fetishize foot binding anew but succeeds rather in opening a window, however painful, however beautiful, to the past." The San Francisco Chronicle, May-lee Chai
"Browsing in the Metropolitan Museum Of Art's bookshop recently, I came upon your beautiful book. I snatched it immediately. You have filled in many, if not all, the gaps in my quest to learn more about this fascinating subject. Now as I 'fondle' my few Splendid Slippers, I will be reminded of their owner's exquisite agony and dreams of the 'good life' that three inch crippled lotus buds would ensure. Thank you." Joan Ahrens
Snow Flower and the Secret Fan
Young Snow Flower and Lily experience the pain of foot binding.