Suddenly there is an epidemic of auctions of major deceased film stars!  Have all the families been hanging in there waiting for it to begin?  Last week I told you about handsome Douglas Fairbanks Jr.'s big auction.  Even confessed to bidding, though not getting, a lovely velvet collared evening cape.
Well from formal evening capes to John Wayne's Lucchese cowboy boots, looking a bit beaten up that he wore in True Grit or Rooster Cogburn — or maybe both.  The auction house isn't quite sure.  The estimate on them is $8,000 to $10,000 and it's sure to soar.  You know how men are about their cowboy boots — when they're in to them.  And to have "The Big Man's!"  Of course there is one little catch.  Lucchese boots are hand made and they have numbers in them.  Well these boots have 495 in one and 496 in other which means they're not exactly a matched pair.  The auction house explains it by stating that in Rooster Cogburn John Wayne had walked in streams and rafted some rivers and they probably got wet and additional boots were needed.  So if you don't mind having a pair of boots that don't exactly match the opening bid is $8,000.
There are actually more than one pair of Lucchese boots up for sale.  I've been looking at sample Lucchese boots all summer in a booth selling them at the Santa Barbara Polo Club almost every Sunday.  The boot booth was there because Lucchese is owned by John Muse who had a polo team playing at the Santa Barbara Polo Club called, surprise "Lucchese".  And Lucchese won the hotly contested Bombardier Pacific Coast Open Tournament September 4th.  Of course John Muse doesn't make anything on the auction of John Wayne's boots and even if he did it wouldn't really help him pay the ten goal star of his polo team, world's greatest Adolfo Cambiaso.  You see Cambiaso was rumored to be getting paid a million dollars plus four fine polo ponies for his summer of polo in Santa Barbara.  I'm wondering now who made Adolfo's boots.  Maybe some day they'll come up for sale at a famous sportsmen's auction and we'll find out.
Now if you're not interested in buying what John Wayne wore on his feet you can start at the top and work your way down.  But like Douglas Fairbanks, Jr. don't look for underwear for sale.  Fortunately there's none of Wayne's either!  But there are lots of hats!
You can pick up a little beret from The Green Berets if you're game to start bidding at $6,000.  No it's not lined in sable!
A cowboy hat worn in either Horse Soldiers or Rio Lobo is considered more of a treasure than the little beret because bidding on that hat starts at $30,000.  A cowboy hat from Big Jake and/or Train Robbers starts at $30,000 as well.  A real bargain is a black bowler hat they think is from The Quiet Man that starts at $1,300.  And now I have to confess there is a white hat with a back flap that appears to me to be a Foreign Legion hat (they have another name for it) I find quite appealing.  It starts at $500 and one never knows how things will go.  I don't think 82 going on 83 is really too old to run off and join the Foreign Legion if things get too rough do you?  It has always sounded so romantic.  And that hat is so cute…
Like the Douglas Fairbanks Jr. auction there are so many things for sale I don't think should be like two unused checkbooks from 1960.  Opening bid is $600.  Who would be fool enough to sign one of those John Wayne and walk into a bank and try to cash it? Even if he were wearing cowboy boots and Stetson hat.
And again there were lots of books for sale.  But they were more Hollywood biography and coffee table books.  I won't even begin to compare it to Douglas Fairbanks Jr's really fine quality library.
If you are tempted by any of this you'd better get on line fast and go to Heritage House Auctions because John Wayne goes on sale October 6th and 7th.  No time to lose.
You have plenty of time to buy Elizabeth Taylor gowns, jewels, who knows what else.  Christie's is really pushing this one!  I had a formal engraved invitation to buy a ticket for a viewing of  Taylor items being sold in Los Angeles.  First time for that.  I'm invited to every viewing and they offer me drinks and hors d'oeuvres.  Selling tickets to clients is really a first.
When I say they are promoting big, they've got this act on the road unlike any auction in my memory.  Even more than the Duke and Duchess of Windsor or Rudolf Nuryev.  Elizabeth Taylor treasures to be auctioned were in Moscow Gum Red Square 3 for viewing last month, September 15th and 16th.  Next stop September 24-26th London. It's in Dubai for the big spenders to check Liz out October 23rd.  Geneva bankers can peek November 11th and 12th.  Then back to Paris November 25th to 27th.  The sale takes place in Los Angeles December 13th to 16th. [Edited to add: Every ticket is sold out for four December days of viewings of Elizabeth Taylor sale LA!  Catalogues can be preordered. Entire set is $300. Individually catalogues on jewels, costumes, personal clothing etc run $150 each. The Collection of Elizabeth Taylor – Christie's]
I saw some of the great Taylor jewels in San Francisco when Cartier presented fantastic jewels from their archives at the Legion of Honor Museum in December 2009.  A set of diamond and gorgeous Burmese rubies necklace, bracelet and earrings given to her by her husband Mike Todd in 1957 had museum goers breathless.
My memories of Elizabeth Taylor go way back.  I was at a bridal shower for my friend singer Jane Powell.  Other than Janie I didn't really know any of the other girls and was sitting on a sofa between Ann Blyth and Janet Leigh when the most gorgeous creature I'd ever seen burst into the room and threw herself on the ground in front of her friends Ann and Janet.  Without taking a breath, bursting with enthusiasm she told them she'd just met the man she was going to marry, Nicky Hilton.  And I'm there in the middle just starring at those magnificent lavender eyes and marveling at the beauty of this young woman.
I still had never really met Elizabeth Taylor when some years later I went to a party at the Edwin Pauley's home following the premiere of Lust for Life.   This time my escort was a friend of Mike Todd so I got introduced to both.  She was wearing a beautiful very full gown of champagne color double satin with black velvet trim and lots of diamonds.  But sadly what I noticed most was the old perspiration stains under the arms of the gown that obviously was put into the closet after the previous wearing when it should have gone to Beverly Hills best cleaner.  So if you are tempted to bid on any champagne satin gowns, check the underarms first.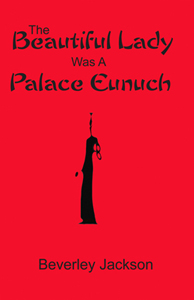 By The Way
This blog was started to sell my new book and I keep going off on other topics. Please do check out
The Beautiful Lady Was A Palace Eunuch
at Amazon.com
Acknowledgement:
Kathleen Fetner, Technical Advisor and Friend