Searching through the wall of cookbooks for a particular book I came upon a Clarkston Potter book by the late Nan Kempner called R.S.V.P published in 2000. Not having looked at it since 2000 I took it down and perused it with great interest. I met the late Mrs. Kempner on only two occasions. Once when the late Esme Hammond, about whom I blogged recently, and I upon finishing luncheon at Mortimer's in New York joined Esme's cousin Gloria Vanderbilt, the late Mrs. Charlie Chaplin and Nan Kempner at their table for dessert. Well, Nan Kempner ate most of my dessert, but I learned later from Esme her fork in your food was not unusual. And it did save me unneeded calories! The other time we met was for a panel discussion on entertaining for a group in Beverly Hills. I can't remember too much about it. Mrs. David Begleman was one other woman on the panel. I remember her because her Hollywood producer husband was making lots of news at the time. I was there because Dale Kern, then West Coast editor for W Magazine whose territory stretched all the way to Hong Kong, had just done a feature story "Montecito, A Place of Quiet Money" and I'd been mentioned as "primo hostess of Montecito".
R.S.V.P. is an interesting book with surprisingly good recipes, lovely pictures and covers all types of parties hosted by well known hostesses around the world. There's a luncheon in Deauville, France hosted by Countess Anne d'Ornano with a sea scallop salad on my list to try. Princess Marie-Chantal of Greece has a grapefruit gazpacho with mint that next August for Santa Barbara Fiesta is going to be a wonderful variation on ever popular gazpacho every time I entertain.
GRAPEFRUIT AND MINT GAZPACHO
1 cucumber peeled, seeded, and finely diced
2 tomatoes, cored and finely diced
1/2 cup finely diced celery
1/2 cup finely diced red bell pepper
1 scallion (white and green parts) diced
1-1/2 cups fresh grapefruit juice
2 tablespoons chopped fresh mint
2 tablespoons chopped fresh flat-leaf parsley
Reserve 1 tablespoon each of finely diced cucumber, tomato, celery, bell pepper and scallions from the vegetable mixture.
In a large bowl, combine the grapefruit juice with the remaining vegetables and the mint and parsley. Mix well, cover, and refrigerate for 1 hour to blend the flavors.
Working in batches transfer the chilled soup to the bowls of a food processor and puree until smooth. Divide the soup among 6 soup bowls and garnish with the diced vegetables.
Designer Valentino contributed the recipe for Caprese Cake, a specialty of the island of Capri where I enjoyed it almost daily the month I spent there years ago.
CAPRESE CAKE
10 tablespoons (1-1/4 sticks) unsalted butter, plus extra for greasing the pan
Flour for dusting the pan
2-1/2 ounces mini melba toasts
2 tablespoons margarine
5 large eggs
1 /4 cup sugar
1 teaspoon baking powder
pinch of salt
1 cup ground almonds
1 pound bittersweet chocolate, grated, plus more for garnish
Confectioners sugar for garnish
Preheat the over to 350F.
Grease a 10 inch round springform pan with extra butter and dust it with flour. Place the Melba toasts in the bowl of a food processor. Pulse until finely crushed.
In a small saucepan, melt the 10 tablespoons butter and the margarine over low heat. Set Aside.
In a medium mixing bowl beat the eggs and sugar until light and fluffy. Add the crushed toasts, baking powder, salt and almonds and stir to combine. Add the chocolate and the melted butter and margarine and mix together until blended. Pour the cake mixture into the prepared pan and bake for 50 to 55 minutes. A toothpick inserted into the center should come out almost clean. Cool the cake on a wire rack. Invert onto a serving plate and garnish with a sprinkle of confectioners' sugar and grated chocolate.
There now, if you don't have a Valentino red evening gown in your closet you can have a slice of his Caprese Cake on your plate.
Well I can talk about fancy dining and cooking but I have to say last week I gave a really fun party for about 30 and the only cooking I did was turn the oven on to 400°F and stick pans in and take them out! It was a very last minute event. About three days before I went to squeeze something into my freezer and there was no room for absolutely anything because it was filled with frozen hors d'oeuvres and homemade dim sum from my last big party.
So I decided — everyone I really like that I hear from via phone, email, letter the next three days gets invited for drinks Sunday night. Now that's a new way to put together a guest list! And they all came!! There were no bartenders or waiters. No marketing. I had it all from dim sum to champagne. Linda Jackson and my darling granddaughter Haley Carrere passed the bamboo steamers filled with dim sum and platters with hot hors d'eouvres, everyone made/poured their own drinks and everyone had a ball because they all met new people. I think maybe that's the way I'll do it from now on.
Incidentally it was so casual I just put on a clean starched white shirt, threw some of the giant beads I make around my neck, clean black trousers and………… I didn't know until Gerald Incandela sent me a photo from his iPhone camera the next morning I never did put on any shoes. But the barefoot hostess had a great time!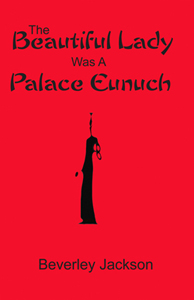 By The Way
This blog was started to sell my new book and I keep going off on other topics. Please do check out
The Beautiful Lady Was A Palace Eunuch
at Amazon.com
Acknowledgement:
Kathleen Fetner, Technical Advisor and Friend