It was bigger news in Paris and London than in Santa Barbara, California but I read with interest the obits in the European papers about the recent death of la Baronne de Cabrol. Born Marguerite d'Harcourt the daughter
of Etienne, Marquis d'Harcourt, she was known throughout her life as Daisy. Reading these obits la Baronne emerges as one of the very last of an era of French aristocratic society who swirled in a seemingly glamorous whirl in living their lives. I met her only once, casually, when a group of us shared a chartered plane to fly from Paris to Bordeaux for a Rothschild wedding in the 1980's. She was part of a very colorful group of fellow passengers including the wife of the President of France, Mme. Jacques Chirac, designer Pierre Cardin, the glamorous Vicomtesse de Ribe among others. But I've read quite a bit about Daisy Cabrol through the years.
It appears her years of marriage to Baron Fred de Cabrol de Moute were happy years, colorful years. Her late husband was a talented amateur artist and interior designer who not only did work for homes and chateaux for many of their group but also for such places as the Hotel George V in Paris. He was particularly known for intriguing scrapbooks he kept of photographs, newspaper clippings and his own delightful water colors that visually documented their world.
Daisy loved parties and society columns were filled with pictures of her during the era of great balls in Paris, during the 1950's in particular. She especially liked costume balls and hosted many herself. It should be explained that these extravaganza galas were not the parties we call balls in this country which are generally glorified dinner dances. They were great events with the most famous haute couture designers in Paris doing the costumes, entertainment produced by famous name entertainers or the entire troop of the Ballet Russe or the Cuevas Ballet performing, and on occasion complete dramatic temporary buildings were built to stage the galas.
As the obits go the London Telegraph gets into the sexier part of Daisy Cabrol's life more than the parties. British papers are prone to do that! They bring up the story that in 1945 the British Ambassador to France, Duff Cooper, (the paper calls him the Lothario Ambassador to Paris!) took an interest in Daisy which upset his then mistress Louise de Vilmorin to the point that his wife Lady Diana Cooper had to console de Vilmirin and assure her that Duff really loved her. The British and French are inclined to be more understanding in such situations than Americans. Cooper, in writing about the incident in his fascinating letters now out in book form edited by his son the Viscount Norwich. described her as "sweet but not very clever girl. She is very proud of being the only one in Paris who is faithful to her husband and says she intends to remain so. I really don't mind." Fred de Cabrol died in 1997 and I haven't been able to verify if she kept her word on this!
I have found one incidence of her not being very clever. That is when she attended a 1951 ball with theme of costumes of 1900, hosted by Vicomtesse Marie-Laure de Noailles, dressed as an armless and legless woman! This in my mind brought the theatrical self indulgent way of life for many in her group to a new low. La Baronne's life wasn't really a life that contributed much to her fellow man but it has given those of us who are ancient enough to remember and/or read books about the European world following WWII some amusing reading. Speaking of which I'm deep into a new British book West End Front by Matthew Sweet on what went on during World War II in London's grand Hotels such as the Ritz, Dorchester, and Claridge's where many of the famous and infamous took refuge during the Nazi bombings of London. Fascinating to read of leading political figures, movie stars, courtesans, Nazi spies, sharing limited space in underground shelters beneath the hotels during bombing raids and living down the halls from each other on a full time basis. And most interesting to me I'm reading incidents involving people I actually knew, in a few cases quite well. So there is bound to be a blog forthcoming on this book eventually!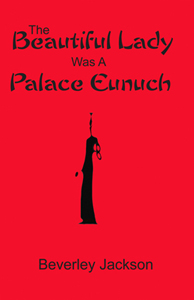 By The Way
This blog was started to sell my new book and I keep going off on other topics. Please do check out
The Beautiful Lady Was A Palace Eunuch
at Amazon.com
Acknowledgement:
Kathleen Fetner, Technical Advisor and Friend