Chapter Nine
SOME FREEDOM IN PEKING
Part One
Because the hotel phone service was so impossible, except for distances exceeding 10,000 miles, we left lots of notes under each other's doors.  "Meet me in morning at 8:00 in dining room" or "Do you have any extra hair rollers?" and similar messages would be slipped under doors at all hours.   Once we'd hit Peking and the evasive entry visa was discovered, we didn't see much of our leader.  But we did have daily assemblies to coordinate our plans.  The note-leaving operation was great when it worked.  But there were times it didn't.  One night I was tired and didn't go to a late night assembly so Marge left me an important communication.  "We are meeting at 8:30 to go to the China Travel Office.  Very important so get up early."  Fortunately Jerry, an early riser, saw the note and beat on the door awakening me to give me the note to tell me to get up early.  Well, as I said, sometimes it worked better than phones.
The constant visits to China Travel had begun in Hong Kong and only grown more frequent and frustrating as the trip progressed.  The only sign I found in English in all branches of China Travel read "The People who have triumphed in their own revolution should help those still struggling for liberation.  This is our internationalist duty."
Visits to the big local hospital were unexpectedly on our agenda.  Doctors could not come to the Hotel.  Patients had to seek aid at the hospital.  Louise went for a swollen jaw.  An English speaking Chinese doctor sent her to a dentist.  Here she was given a prescription and the medicine.  Her total bill was $1.50.  Comparing notes at dinner it came out Marge's sore throat was only an .80 cent illness.
My health was holding up so I went to the zoo.  They had an interesting setup with the Peking Hotel taxis.  If you could find where you wanted to go in a little book that was written in Chinese and English with simple drawings, you could get a taxi to take you there.  The taxi would wait, even if it was hours.  And once there it wasn't surprising to look back quickly wherever you were and see your driver following at a distance. There was always someone spying on us. The fare was shockingly cheap.  At the end of your ride the driver would give you little tickets which you presented at the main desk of the hotel and you paid there instead of paying the taxi driver directly.  You might have had a one ticket ride, or a long wait could mean a nine ticket trip.
The Peking Zoo was big and well-tended.  People were proud of their zoo.  And the real pride of the zoo was the panda bears, which of course was where I was heading.  When I first got word I was going to China, my 17 year old daughter's immediate reply was, "You are going to your version of heaven, a world of Chinese food and panda bears."
Not wanting to waste time I drew a quick picture of a panda bear and showed it to two teenage girls passing by.  They giggled and pointed left.  Through an arch to the left was a large brightly painted map with each animal beautifully painted in its own locale.  As I tried to orient myself with my back to the map, several people pointed the way to the pandas.  They knew where an American lady in a funny ski hat with a tassel on top wanted to go.
The two pandas were worth the trip to China.  They were smaller than expected, but were definitely professionals constantly performing for the huge audience that surrounded the moat that circled their world.  Space was immediately cleared for the foreign lady by the smiling citizens, a relief from spying cadres.  My enthusiasm must have been adequate thanks.  I was enchanted.
Nabisco-like wafers were thrown to the pandas by children and grownups alike.  The pandas assumed the most ridiculous positions to eat, reclining with one leg over the other or lying on their stomachs.  Anything they did was amusing.  Chomping on bamboo was a whole routine.  Finally I got down to serious photographing.  Literally hundreds of people participated.  They would clear space at the rail every time a panda changed direction, sending a child to bring me there by the hand.
Deeply engrossed in what I saw through my lens I wasn't paying much attention to anything else — until I heard laughter behind me, the kind of laughter that designates something naughty.  It's a laughter that sounds the same in any language.  I looked up from the camera viewer to find the source of the merriment.  It was two soldiers near me who were staring down at the boy panda in the moat beneath us.  The panda was looking straight up at the big border of beautiful blue Norwegian fox that served as the hem on my brown broadtail coat.  He was staring at the blue fox and most embarrassingly appeared to have been excited into a full erection by the fur on the hem of my coat. …to be continued
Chapter 1: Part 1  Part 2
Chapter 2: Part 1  Part 2  Part 3
Chapter 3: Part 1  Part 2  Part 3  Part 4
Chapter 4: Part 1
Chapter 5: Part 1  Part 2  Part 3
Chapter 6: Part 1  Part 2  Part 3
Chapter 7: Part 1
Chapter 8: Part 1  Part 2
Chapter 9: Part 1  Part 2
Chapter 10: Part 1
Chapter 11: Part 1  Part 2
Chapter 12: Part 1
Chapter 13: Part 1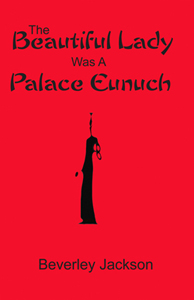 By The Way
This blog was started to sell my new book and I keep going off on other topics. Please do check out
The Beautiful Lady Was A Palace Eunuch
at Amazon.com
Acknowledgement:
Kathleen Fetner, Technical Advisor and Friend