Hundreds of blogs are appearing on our screens with spring 2012 fashion as our calendars only take us into first week of autumn. The Collections are being paraded on runways in New York, London, Milan, and Paris. The topic of whom Dior will select to replace the disgraced, disgraceful but unarguably talented John Galliano is making the fashion columns and blogs again.
While all this doesn't really affect my wardrobe in any major way it does bring back "Remembrances of Dresses Past". When I was growing up in Los Angeles everything I wore came from a magnificent Art Deco department store Bullocks Wilshire. The clothing that covered me when I was brought home from the Hollywood Presbyterian Hospital was from Bullocks Wilshire. My haircuts took place with me sitting on one of the genuine carousel animals in Bullocks Wilshire's children's barber shop. The white Mary Jane shoes for dress that indicated spring had sprung came from BW as had the black patent leather Mary Janes being replaced. My dresses came from the same place as did my coats, camel hair or navy blue wool. When I was older my Westlake School for Girls uniforms and my voluminous wedding gown did too.
A great treat through the years was lunch with my mother in the BW Tea Room where pretty thin models paraded the latest from the elegant 2nd floor French Room. I always ordered their Welsh Rarebit with chocolate ice cream for dessert. The store was a place of unchanging tradition. It was the same men year in and year out, wearing discreet uniforms and clean white gloves, who moved the shiny brass elevator controls to carry us from floor to floor, announcing each floor as we smoothly arrived. I think those men spent their entire lives going up & down announcing "Fifth floor Tea Room & Ladies Lounge, Second floor French Room and Irene Collection". And they knew us all by name. I knew I was getting older when they switched from "Good day Beverley" to "Good day Miss Beverley".
Huell Howser visits Leslie Steinberg of the Southwestern University School of Law, which has lovingly restored the Bullocks Tea Room to its original splendor.
I remember getting the first outfit of my own choice, not my mother's. I was about 14 and my friend the late Carole Elliott's mother was a buyer at BW. Well armed with birthday money off to BW Carole and I went. On mezzanine floor Ladies Sportswear I chose a very tailored soft moss green wool gabardine dress with brown leather belt. I had a waist back then. Actually a very small waist in those days! And brown & white Spectator pumps with very conservative heel. That might have been the day I became Miss Beverley.
I cried The Day Bullocks Wilshire closed. Everyone did! We'd lost a way of life and many long time friends.
In the years that followed my personal fashion went through many phases until I met the remarkable Ursula Parola. She was a master at creating with scissors & needle! Since she was a well-trained perfectionist my Parola gowns where as beautifully constructed as Paris haute couture. Inner seams were perfect double French seams. Jackets were anchored with hidden chains. Button holes were handmade. In other words, perfection of construction. And since I'd always loved fine fabrics we made a great team.
My social life in the early Parola days was tremendously active and I was also writing my social column, the first By The Way for the Santa Barbara News-Press. Full evening dress could be required as often as five nights a week. I ended with a very large closet devoted entirely to full length gowns & flowing capes.
I'd discovered a fabulous small fabric shop off the Place Vendome in Paris and another at the entrance to the Villa d'Esté on Lake Como. Both shops got the best end lots of silks made specifically for the greatest Italian & Paris designers. The designer's name was frequently woven into a salvage edge of the fabric and Parola loved hiding the name just once somewhere inside each garment. I wore one dress for years before finding Givenchy's hiding place! Some of the fabrics were outrageously expensive but totally safe beneath her scissors. I've kept some of those gowns even though they no longer fit and occasions for wearing them minimal. Some have gone to museums with fashion collections in NY.
One bright day I arrived at Parola's for a fitting and a new face, dear wonderful Quy, appeared in the workroom. She and her family had just arrived on a boat from Vietnam, in a new strange country with few possessions, having left behind a most affluent existence when they fled Vietnam.
Parola eventually retired but Quy and I are at it still. Dear friends first and creators second. She and her engineer husband have built a wonderful life as hardworking American citizens. Their university graduate children are all exceedingly successful. It is a truly fine story of what is possible in our country. Quy and I seem to spend as much time at her kitchen table talking and eating Vietnamese salad of shredded chicken breast, cabbage, fresh cilantro with lots of lemon juice and some secret Vietnamese sauce, as we do in the fitting room. Through the years the things we create together have changed. An incorrectly set broken ankle some years ago left me unable to display leg in short skirts so it's all trousers & long gowns. But the specialty the last few years is assembling pieces of superb vintage Chinese embroidery saved from garments too badly damaged through the centuries to be part of my collection of antique Chinese costume and textiles. The one jacket pictured Quy said was absolutely the last she would make after it required weeks of delicate work. It wasn't the last but it is her masterpiece of assemblage.
The other time she said never again was when I purchased on eBay a size one Galanos dress with the most fabulous top half totally beaded by Lesage in Paris. I found a full page color photo of the dress's bead design in the book The Master Touch of Lesage written about the four generations of Lesage, the world's greatest workshop of embroiderers and beaders. I spent many nights carefully taking the perfectly made dress apart. Galanos creations are perfection inside and out. Then with beaded full front, back and two sleeves and weeks of patient work Quy was able to make a brown velvet jacket with one side of front and rolled collar of the Lesage beading. That's a clue as to what I can get out of a Size ONE!!! She marveled at the Lesage workmanship. With all the cutting and piecing necessary, not a single fine bead, sequin, crystal or pearl fell off. Although marveling at the Lesage masterful technique, when the jacket was finally finished she said "Never again!" I think this time she means it. At least until my next discovery.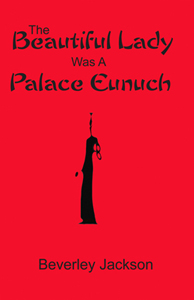 By The Way
This blog was started to sell my new book and I keep going off on other topics. Please do check out
The Beautiful Lady Was A Palace Eunuch
at Amazon.com
Acknowledgement:
Kathleen Fetner, Technical Advisor and Friend